As a free screen recorder,
Any Video Recorder
supports capturing video, audio and pictures of anything you view on screen. Any part of the screen, any window on the screen, any webcam sessions, any favorite games displayed on screen, and even the entire desktop can be recorded. Whether you need to produce a vivid tutorial, presentation or demo video, Any Video Recorder makes it easy and fantastic.

Any Video Recorder
could automatically detect video area. The usual process is, play video first, and click "Record Now" button, then the video will be detected. However, it is for the small window, but when we watch a video, we always like a full screen. Then how to record videos in full screen with Any Video Recorder?
Step 1: Download and install Any Video Recorder
The program can be downloaded from the link:
http://www.any-video-recorder.com/
. It is totally free, and easy to install.
Step 2: Launch the program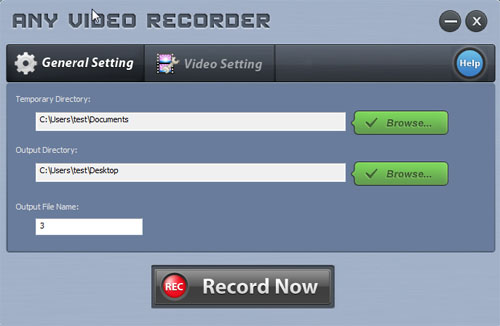 Step 3: Before recording, users could set the temporary & output directories, output file name, and video framerate and bitrate
Step 4: Detect video area,Click "Record Now" button, there will pop up a red frame which automatically detected the video area.
Step 6: Stop recording
Now we can start recording, users could click on the red start recording button, or Ctrl+F7 to start.
Step 5: Start Recording
Asked Sep, 18 2012